HARVARD BUSINESS REVIEW ON
BLUE OCEAN STRATEGY
BUSINESS AS USUAL IS NOT AN OPTION . . .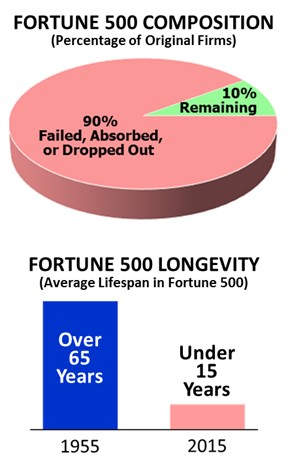 PARADIGM SHIFTS
Major firms are falling to paradigm shifts with increasingly shorter lifespans.

The rate of change is accelerating with new technology and business models.

Competing in Red Ocean markets, with declining margins, is a losing game.

Innovation strategies are used to create uncontested Blue Ocean markets.


Contact LCGadvantage to develop Blue Ocean strategies
DESIGN THINKING
Innovative products/services require a thorough understanding of hidden

customer needs that traditional market research techniques fail to identify.
Observational and ethnographic research of customers in real life situations

uncover those hidden unmet needs and new business opportunities.
Reframing those needs by understanding base motivations breaks existing

restrictive paradigms and opens minds to truly disruptive innovation
Iterative design, prototyping and customer testing helps confirm if you are

moving in the right direction and permits faster reaction to market changes.
Lean Startup rapidly and inexpensively tests proposed products and business models with markets to assess acceptance and needed changes or pivots.
Pivots can involve markets, channels, value capture, technology, platforms, etc. Such pivots were the key to success for many multi-billion-dollar firms.
Agile provides a reliable pipeline for continuous development of products or services with higher quality, less risk and a greater capability for change.
ORGANIZATIONAL DEVELOPMENT
Organizations should conduct SWOT analysis to identify strategic business needs, then drill down to objectives and value drivers, followed by current state/future state capability analysis to facilitate organizational redesign.

Training deployment strategy identifies knowledge gaps, course curriculums, content, delivery channels, interactive elements, coaching, certifications and pre/post training performance metrics for employees to meet new challenges.

Lean is used across all manufacturing and transactional operations to identify

and address wastes and inefficient flows to improve costs and performance.
Six Sigma applies statistcal analysis to identify root causes of variations and




defects in products or service operations and to implement effective solutions.
STRATEGY - DESIGN THINKING - LEAN START-UP - AGILE DESIGN - LEAN - SIX SIGMA - TOC - DFSS
STRATEGIC PLANNING - BUSINESS PROCESS TRANSFORMATION - ORGANIZATIONAL REDESIGN - CHANGE MANAGEMENT COURSE DESIGN & DEPLOYMENT - INNOVATION BOOT CAMPS - KAIZEN EVENTS - PROJECT MANAGEMENT - COACHING
KANO & CONJOINT MARKET ANALYSIS - ETHNOGRAPHIC RESEARCH - PREDICTIVE ANALYTICS - COMPUTER MODELING

ERIC REIS ON MAKING PIVOTS
(THE SECRET TO SUCCESS)
STEVE JOBS ON WHY COMPANIES FAIL